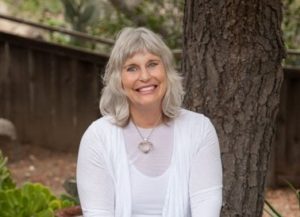 I am a Light-minded soul inspired by Spirit and Nature. Encaustic is my medium for the simple pleasure of its sensual fragrance, and its forgiving, playful, and independent qualities that require only a free spirit and an eye for beauty. Encaustic is multifaceted; both misty and translucent, veiling and revealing. There is a sacred resonance to bees and to wax, a source of nourishment and protection. The simple pleasure of lost hours in the studio absorbs me.
My conventional upbringing, in contrast with a spiritual and existential understanding, is revealed in captivating depth in both my artwork and my writing with the Peace Waters products and books. Encaustic connects me to the vastness of all that is beyond this seemingly troubled world. It is my open-eye meditation. My style is mostly representational and the process is simple. First I anchor myself in a moment of time and space with an image, oftentimes a photograph. Then I begin to play in the flow and fusion of molten beeswax enlightening the unseen. I simply hold the brush and the Divine Source pulses through me. I delight in the encaustic medium and the spontaneous unfolding of its message.
Similar to life, every layer of beeswax and each moment in time are fused behind and before, creating life's journey. Witnessing the spontaneous expression of an artist's perspective deepens one's self-awareness and reveals one's perception of Reality. This is the gift of art.
At Market

Las Vegas – International Market Center
Gifts of Nature – Building C – 806
Los Angeles – LA Mart – The Reef
Gifts of Nature – 3rd Floor
Solo Exhibitions
ArtBeat on Main Street, Vista, California, Masters of Men & Spirit
September – October 2016

Select Exhibitions and Shows
Escondido Arts Partnership, West Coast Fiber & Book Arts, Escondido, California


Juror, Michael Rohde, September 2016

International Encaustic Artists/Encaustic Art Institute, Making Your Mark


Santa Fe, New Mexico, David Limrite, Juror, September 2016


34th Annual Wallowa Valley Festival of Arts


Steve Henderson, Judge, September 2016

Vista Civic Center, Vista, California


August- October 2016

Art on 30th, San Diego, California


Rock the Red, Alessandra Moctezuma, Juror, February 2016
The Sunny Side of the Street, May 2016
It Figures, Stephanie Goldman, Juror, June 2016


Bigfork Arts & Cultural Center BACC, Bigfork, Montana


Spring Members Show – April 2016
Earthworks – Art in Wood, Metal and Leather, Shadowhawke Garnet, Juror, June 2016


Escondido Arts Partnership Municipal Gallery, Escondido California


Contemporary Realism, Don Manor, Juror, April 2016
Abstracts and Surrealism, Duke Windsor, Juror, June 2016

La Jolla Art Association, La Jolla, California


Petal Pushers

,

Patrick Mason, Juror, April 2016




A San Diego State of Mind, June 2016




Las La Laguna Gallery, Laguna Beach, California


July 2016

Mission Federal ArtWalk, San Diego, California


March 2016

Sage Gallery, Portland, Oregon, Clare O'Neill, Juror


June 2016

Solo exhibit – Refresh Rx, San Diego, California


June – September 2016

The Foundry Exhibitions, "Putting It Together"


August 12 – September 23, 2016


ArtBeat on Main Street, Vista, California
Galleries and Boutiques
Art N Soul on 101, Encinitas, California

Art Beat on Main Street, Vista, California

Buffalo Dancer Gallery, Bigfork, Montana

hunt & Gather, Portland, Oregon

Laurel Glen, Escondido California

San Diego Art Institute, Space Boutique, Balboa Park, San Diego, California

Leaping Lotus, Solana Beach, California

Earths Elements, Encinitas, California

Earths Elements, Big Bear, California
Affiliations and Memberships
Athenaeum Music and Arts Library, La Jolla, California

Escondido Arts Partnership Municipal Gallery

International Encaustic Artists – IEA

La Jolla Art Association, La Jolla, California

LAXWAX Art Los Angeles Chapter IEA

San Diego Visual Arts Network – SDVAN